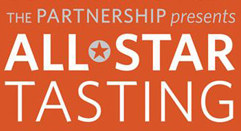 the Partnership for Drug-Free Kids is excited to announce our first-ever All-Star Tasting Event, set to take place on June 27, 2012 at the landmark Astor Center in New York City.
The event will feature stellar athletes and great chefs, raising funds so that all young people will be able to live their lives free of drug and alcohol abuse. Participants will have the chance to mingle with athletes and enjoy an evening of culinary delights, beginning with the All-Star Tasting and followed by entertainment, dessert and auctions of unique and exclusive packages featuring dining experiences, travel, sports events and more.
Among the talented chefs preparing tasting samples for guests are Chef Carey Yorio of Goya Foods, Iron Chef Marc Forgione, Chef and Owner of La Promenade des Anglais and Azure by Allegretti Alain Allegretti and others. Former NBA star Darryl "Chocolate Thunder" Dawkins, Basketball Hall of Famer Earl "The Pearl" Monroe and International Tennis Hall of Famer Jim Courier are just a few of the athletes confirmed for the event.
To learn more and purchase tickets online, visit the Partnership for Drug-Free Kids's All-Star Tasting page.