When you fundraise on our behalf, you're helping families impacted by addiction get the answers and resources they need. Whether you're honoring a loved one or celebrating your own recovery, there are many different ways to fundraise.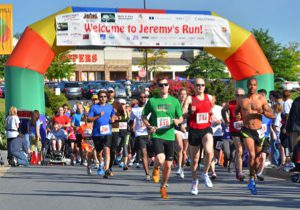 Become a Partner for Hope
Our tools make it simple, easy and will help set you up for success. Create your first fundraiser and become a Partner for Hope today.
Create your fundraiser
Ideas to get you started
With a memorial tribute, you can honor a loved one lost to addiction, collect donations in lieu of flowers, or do whatever you wish to commemorate your loved one's memory.
Celebrate your own or a loved one's recovery by fundraising to support families impacted by addiction.
Make your birthday even more meaningful by asking for donations that will help families in need.
Create a run, walk, spin, swim or other event in your community where participants make a donation in lieu of a registration or class fee.
Keys to fundraising success
Set a challenging but achievable goal, and communicate that goal to your potential donors. It's also useful to attach a specific timeframe to your fundraiser. This will help supporters feel your sense of urgency and motivate their participation.
Share your passion and stay organized. People won't give unless they're asked and they want to hear why our cause is so meaningful to you! Remind your friends, co-workers and family members supporting your fundraiser of the benefits of giving and encourage their generosity. Their tax-deductible gifts support families across the country.
Remember to thank and acknowledge your donors. Host a celebration once you reach your goal, send a thank you card or email, and give them a shout out on social media. Let them know how much you appreciate their generosity and help them feel empowered to motivate others to donate as well.

If we can all rise up, we can bring light to ending the negative stigma of addiction, and show that no matter what, at the end of the day, there is always hope!
Every dollar makes a difference
Please remember that no matter the amount raised, you're helping families and parents impacted by addiction. Here's what your fundraising dollars provide:
$100 allows our helpline specialists to connect with four parents seeking support.
$500 provides substance use coaching and support to three parents over six weeks.
$5,000 provides training for five parent coaches.