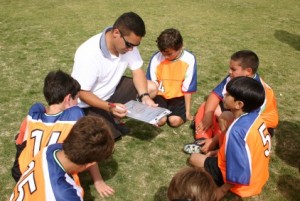 New York, NY (May 7, 2015) – The Partnership for Drug-Free Kids, in conjunction with Major League Baseball Charities (MLB), today announce the sixth annual Commissioner's Play Healthy Awards to celebrate extraordinary individuals on and off the playing field. The awards are an extension of both organizations' comprehensive efforts, including the new Play Healthy website, to educate families on the risks of steroids and performance-enhancing substances, and to recognize youth coaches and student athletes who embody the spirit of teamwork and healthy, drug-free competition.
One winning youth coach and one student athlete will receive prizes, including a trip for themselves and one special guest to New York City. The winning coach and athlete will also receive two tickets each to the Partnership for Drug-Free Kids' annual gala where they will be honored. Additional prizes will consist of a $500 gift card to a sporting goods store, a commemorative plaque presented at the gala and the opportunity to be featured prominently on drugfree.org and abovetheinfluence.com, the Partnership's popular and effective drug and alcohol prevention initiative created for American youth.
A panel of judges will determine the winners by reviewing all nominees who demonstrate their commitment to fair, drug-free play and an overall healthy lifestyle. Additionally, the judges will evaluate the nominee's commitment to leadership, sportsmanship and encouragement of others on and off the field. The applications consist of general information about the athlete or coach and a short essay.
"Major League Baseball is committed to healthy competition at all levels of our game," Baseball Commissioner Robert D. Manfred, Jr. said. "As an extension of those efforts, we are proud to work alongside the Partnership for Drug-Free Kids on the Play Healthy Awards, which focus on educating coaches, parents and participants in youth sports and promoting a positive approach to healthy living and competition."
"While high-profile athletes make headlines for their unfortunate choices to use performance-enhancing substances, there are youth coaches and student athletes that go above and beyond to encourage fair, healthy play within their schools and communities," said Marcia Lee Taylor, interim President & CEO of the Partnership for Drug-Free Kids. "We are honored to partner with Major League baseball to help advance the positive influence sports can have on a teen's life and to recognize those individuals making it possible. The Commissioner's Play Healthy Award is part of our organizations' ongoing effort to educate teens and families about the risks of steroids and performance-enhancing substances, while highlighting the value of healthy competition."
Joanne Fitts, a youth coach from North Kingston, Rhode Island and Kelsey Barrett, a teen athlete from Gardiner, Maine, were the recipients of the fifth annual Commissioner's Play Healthy Awards last year.
Nominations may be submitted online at drugfree.org/playhealthy from Thursday, May 7, 2015 to Friday, November 6, 2015. Nominees for the student athlete award must be between 13 and 18 years old and nominees for the youth coach award must coach teams of students who are between the ages of 13 to 18. If qualified, individuals can nominate themselves or the nomination can be made by someone other than the person being nominated. Winners of the Commissioner's Play Healthy Award will be notified on Friday, November 20, 2015. Please visit drugfree.org/playhealthy for additional contest rules and regulations. Use #playhealthy to follow the conversation on social media.
# # # # 
About the Partnership for Drug-Free Kids 
The Partnership for Drug-Free Kids is dedicated to reducing substance abuse among adolescents by supporting families and engaging with teens. We develop public education campaigns that drive awareness of teen substance abuse, and lead teen-targeted efforts that inspire young people to make positive decisions to stay healthy and avoid drugs and alcohol. On our website, drugfree.org, and through our toll-free helpline (1-855-DRUGFREE), we provide families with direct support and guidance to help them address teen substance abuse. Finally, we build healthy communities, advocating for great access to adolescent treatment and funding for youth prevention programs. As a national nonprofit, we depend on donations from individuals, corporations, foundations and the public sector and are thankful to SAG-AFTRA and the advertising and media industries for their ongoing generosity. We are proud to receive a Four-Star rating from Charity Navigator, America's largest and most-utilized independent evaluator of charities, as well as a National Accredited Charity Seal from The Better Business Bureau's Wise Giving Alliance. 
About MLB Charities 
Major League Baseball Charities is a not-for-profit corporation that provides support to local, national and international tax- exempt organizations to directly conduct or sponsor activities for the promotion of good health, physical education, public safety, medical research, literacy, educational or charitable purposes. In addition to supporting the Reviving Baseball in Inner Cities (RBI) program and Boys & Girls Clubs of America, MLB Charities provides support to a number of other national charitable initiatives, including the Jackie Robinson Foundation, the Partnership at Drugfree.org, and the National Recreation and Park Association (NRPA). The Office of the Commissioner of Baseball pays all administrative expenses of MLB Charities.