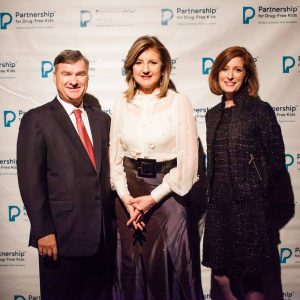 We hosted our annual Winter Wish Gala at Gotham Hall in New York City on Tuesday, December 13. The event raised nearly $1.1 million to help provide support and guidance to families struggling with their son or daughter's substance use.
The gala celebrated the people and organizations, including Interpublic Group (IPG), Omnicom and Publicis Groupe, that have made our work possible over the past 30 years.
Arianna Huffington, founder of The Huffington Post & Founder and CEO, Thrive Global served as Master of Ceremonies. Michael P. Botticelli, Director of the National Drug Control Policy, an advocate on behalf of families and individuals struggling with addiction, received the Special Tribute Award; and Senator Rob Portman received the Jim Burke Award.
If you were not able to attend the Winter Wish Gala, please consider donating to support our efforts to help further the Partnership's important work on behalf of parents and families across the U.S.