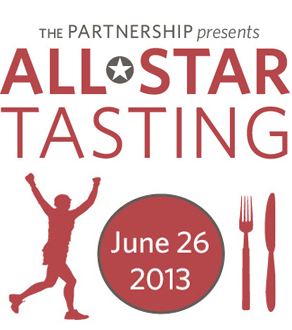 the Partnership for Drug-Free Kids is excited to announce our second annual All-Star Tasting Event, set to take place on June 26, 2013 at the landmark Astor Center in New York City.
The event will feature all-star athletes and notable chefs, raising funds so that all young people will be able to live their lives free of drug and alcohol abuse. Beginning with a VIP demonstration by Chef Johnny Iuzzini, head judge of Bravo's culinary competition series "Top Chef: Just Desserts." Iuzzini is also the 2006 James Beard Foundation award winner for Pastry Chef of the Year and one of the "10 Most Influential Pastry Chefs in America" by Forbes.
At the main event, guests will have the chance to mingle with athletes and enjoy tasting stations from an assortment of New York-area chefs. The evening will also include entertainment, dessert and an auction.
Among the talented chefs preparing tasting samples for guests are Chef Brad Farmerie, Executive Chef at PUBLIC and Saxon + Parole; Chef Thiago Silva, Pastry Chef at Catch and The General; Chef Ed Cotton, Executive Chef of Fishtail by David Burke (and runner-up on Season 7 of "Top Chef") and others.
Former NBA star Darryl "Chocolate Thunder" Dawkins, former New York Knick John Wallace and international soccer star Jozy Altidore are just a few of the athletes confirmed for the event.
To learn more and purchase tickets online, visit the Partnership for Drug-Free Kids's All-Star Tasting page.