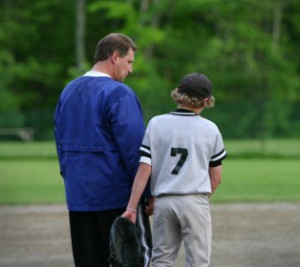 New York, NY (May 8, 2012) – the Partnership for Drug-Free Kids, in conjunction with Major League Baseball Charities (MLB), today announce the third annual Commissioner's Play Healthy Awards to celebrate extraordinary individuals on and off the playing field. The awards are an extension of both organizations' comprehensive efforts, including the Play Healthy website, to educate families on the risks of steroids and performance-enhancing substances, and to recognize youth coaches and student athletes who embody the spirit of teamwork and healthy, drug-free competition.
One winning youth coach and one student athlete will receive prizes, including a trip for themselves and one special guest to New York City. The winning coach and athlete will also receive two tickets each to the Partnership for Drug-Free Kids's annual gala at Gotham Hall on December 4, 2012, where they will be honored. Additional prizes will consist of a $1,000 gift card to a sporting goods store, a commemorative plaque presented at the gala and the opportunity to be featured prominently on drugfree.org.
A panel of judges will determine the winners by reviewing all nominees who demonstrate their commitment to fair, drug-free play and an overall healthy lifestyle. Additionally, the judges will evaluate the nominee's commitment to leadership, sportsmanship and encouragement of others on and off the field. The applications consist of general information about the athlete or coach and three short essays.
"We are delighted to continue to support the mission of the Partnership for Drug-Free Kids, which educates young people and coaches on how to compete the right way," said Baseball Commissioner Allan H. (Bud) Selig. "Major League Baseball is committed to encouraging fair play, teamwork and healthy competition, and the Play Healthy Awards inspire others to make sure everyone has fun on a level playing field."
"Across America, youth coaches and student athletes alike are taking on the crucial role of encouraging healthy play in their schools and communities," said Steve Pasierb, President of the Partnership for Drug-Free Kids. "We need to encourage more of this exemplary behavior. The Partnership is honored to continue this successful campaign with MLB to highlight the positive influence sports can play in our teen's lives and recognize the individuals who help promote healthy living. The Commissioner's Play Healthy Award is part of our organizations' ongoing commitment to educate teens and families about the risks of steroids and performance-enhancing substances – that any use whatsoever is unhealthy and wrong – and stress the value of healthy competition."
Susan Mayberry, a youth softball coach and teacher from Basehor-Linwood High School in Overland Park, Kansas, and Carlos Umana, a star basketball player on the Mountain View High School and Boys & Girls Club of El Paso-Janacek Unit teams in El Paso, Texas, were the recipients of the second annual Commissioner's Play Healthy Awards last year.
Nominations may be submitted online at drugfree.org/playhealthy from Tuesday, May 8, 2012 to Friday, October 26, 2012. Nominees for the student athlete award must be between 13 and 18 years old and nominees for the youth coach award must coach teams of students who are between the ages of 13 to 18. All nominations must be made by someone other than the person being nominated. Winners of the Commissioner's Play Healthy Award will be notified on Friday, November 16, 2012, and announced on Friday, December 7, 2012. Please visit www.drugfree.org/playhealthy for additional contest rules and regulations.