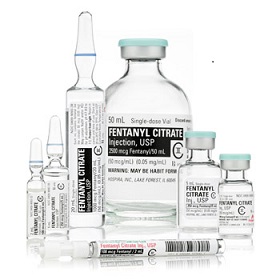 The Drug Enforcement Administration (DEA) has issued a nationwide alert in response to a surge in overdose deaths from heroin laced with the narcotic drug fentanyl, the most potent opioid available for medical use.
"Drug incidents and overdoses related to fentanyl are occurring at an alarming rate throughout the United States and represent a significant threat to public health and safety," DEA Administrator Michele M. Leonhart said in a statement. "Often laced in heroin, fentanyl and fentanyl analogues produced in illicit clandestine labs are up to 100 times more powerful than morphine and 30-50 times more powerful than heroin."
Fentanyl is potentially lethal, even at very low levels, according to the DEA.
Last year, Philadelphia officials announced at least 28 people died after using heroin laced with fentanyl in March and April. Earlier in 2014, law enforcement officials said heroin laced with fentanyl was suspected in at least 50 fatal overdoses in Pennsylvania, Maryland and Michigan.
Seizures of illegal drugs containing fentanyl more than tripled between 2013 and 2014, according to USA Today. The National Forensic Laboratory Information System, which collects data from police labs, received 3,344 fentanyl submissions last year, up from 942 the previous year.
Between 2005 and 2007, more than 1,000 U.S. deaths were attributed to fentanyl, many of them in Chicago, Detroit and Philadelphia. The source of the drug was traced to a single lab in Mexico. The surge of deaths ended when the lab was identified and dismantled, the DEA said.